"The school is set to roll out its entrepreneurship programme for all pupils from Year 1 upwards from September 2017"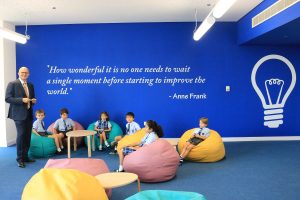 Dubai, UAE - The Arcadia Preparatory School has announced the launch of the region's first Entrepreneurship programme for primary school pupils, to inspire and teach them the basics of entrepreneurship. The programme is based on the first year MBA programme and has been designed by the school's CEO, Navin Valrani, a graduate from two of the world's leading business schools, The Wharton School of Business and the London Business School.
The Junior MBA will be offered to all pupils from Year 1 upwards and will cover areas such as finance, management, marketing and entrepreneurship. At the end of the programme, pupils will be given an opportunity to present their business ideas in front of their parents.
"The Arcadia Junior MBA is designed to be an integral part of our Enrichment Learning Programme and will offer pupils the opportunity to create their own business plans. An initiative of this nature will plant the early seeds of entrepreneurship in the minds of young children and teach them how businesses can positively impact society,"said Navin Valrani, CEO of The Arcadia Preparatory School.
"Someday these ideas may even turn out to be real businesses for Arcadia's pupils. We look forward to doing our bit in inspiring the next generation of entrepreneurs,"he added.
Arcadia's Junior MBA enhances the school's Entrepreneur-in-Residence programme and gives pupils an opportunity to learn from Valrani's experience, serving as an Executive Board member for The Wharton School as well as member of the International Alumni Council of London Business School.
The programme is open only to Arcadia's pupils. Classes will be held at the Enterprise Hub of the school's JVT campus. For more information, please call 04 552 2600 or send an email to [email protected]
About The Arcadia Preparatory School
The Arcadia Preparatory School, located in Dubai's Jumeirah Village Triangle, offers the National Curriculum for England to pupils studying from the Early Years Foundation Stage (FS1) to Key Stage 2 (Year 6). The community-focused, LEED-certified school opened in August 2016 and aspires to be one of the leading British primary schools in the world by instilling into students a lifelong passion for learning, and by nurturing innovation and the pursuit of excellence amongst the teaching staff.
The Arcadia Preparatory School is the first in a series of community-based schools delivering the vision of Mohan Valrani and the Al Shirawi Group. As the Chairman of the school, Valrani is an avid believer in providing the very best education for future generations.
Future Dubai-based schools for Arcadia Group include The Arcadia Senior School, also in Jumeirah Village Triangle; and The Arcadia Primary and Secondary School in Jebel Ali.
Address: District 9, Jumeirah Village Triangle, Dubai
Phone number: 04 552 2600
Email: [email protected]
Facebook: facebook.com/ArcadiaSch/
Twitter: @Arcadiasch
Instagram: instagram.com/arcadiaschool/
Website www.arcadia.sch.ae
For more information, please contact:
Sneha Ashar
[email protected]
+971 56 362 4874