"Parents, teachers and key stakeholders gathered at a special celebration, with guest of honour, H.E. Dr. Abdulla Al Karam of the KHDA, at the school in Jumeirah Village Triangle to officially mark Arcadia's inauguration day "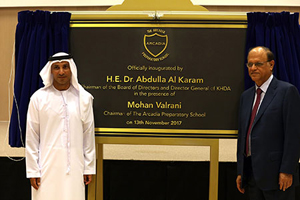 14 November 2017, Dubai, UAE - Marking just over a year of nurturing lifelong learning in Dubai, The Arcadia Preparatory School was officially inaugurated by H.E. Dr. Abdulla Al Karam, director general of the Knowledge and Human Development Authority, at an official ceremony at the school on Monday, 13 November 2017.
In the presence of the school's Chairman, Mohan Valrani, and senior leadership, The Arcadia Preparatory School unveiled an inauguration brass plaque to commemorate the momentous occasion, with the event concluding with a singing performance by Arcadia pupils.
Dr. Abdulla Al Karam, director general of the Knowledge and Human Development Authority, said: "New schools in Dubai help our education sector to be more dynamic and forward-looking. It's great to see that Arcadia Preparatory School is committed to giving parents more specialised choice in high-quality education. We welcome Arcadia to Dubai's schools community and look forward to seeing the school thrive even more in future."
Mohan Valrani, Arcadia's Chairman, proudly said: "It has been a year since we opened our doors and today's inauguration by H.E. Dr. Karam is a testament to the positive impact we have had on our children and community."
Since opening in August 2016, Arcadia has enrolled 350 pupils, with an expected total of 800 pupils within the next two years. The school has been recognised for its successful approach to educating young minds in the region, and its architecture and build received LEED (Leadership in Energy and Environmental Design) Certification by the U.S. Green Building Council (USGBC).
Arcadia has also introduced a number of educational developments, with a strong focus on the core subjects of Maths, English and the Sciences, as well as its unique Enrichment Learning Programme (ELP), which provides pupils with a forward-thinking and all-inclusive programme delivered as part of the extended school day. With its aim of inspiring and teaching young children the basics of entrepreneurship, Arcadia partnered with international ideas company '7billionideas', and again revolutionised education in the region earlier this year by introducing the UAE's first Junior MBA Programme.
Commenting on the success of the school's educational developments, Navin Valrani, Arcadia CEO, commented: "The Enrichment Learning Programme has proven to be extremely popular, and parents in particular appreciate the fact that they are able to select from a range of enrichment opportunities for their children. As a school, we believe that education should be broad, challenging and balanced, and the programme is a unique practical expression of this ethos, delivered weekly to our pupils."
He continued with a comment on the business programme at the school, "The Junior MBA programme is a very popular enrichment learning option amongst our younger pupils. They are in the midst of preparing their investment pitches, and we have also covered the concepts of idea generation, fund raising and organisation structures. We are moving on to our marketing module shortly. It is very exciting to have so many young CEOs in one room."
For more information about The Arcadia Preparatory School, visit www.arcadia.sch.ae.
About The Arcadia Preparatory School
The Arcadia Preparatory School, located in Dubai's Jumeirah Village Triangle, offers the National Curriculum for England to pupils studying from the Early Years Foundation Stage (FS1) to Key Stage 2 (Year 6). The community-focused, LEED-certified school opened in August 2016 and aspires to be one of the leading British primary schools in the world by instilling into students a lifelong passion for learning, and by nurturing innovation and the pursuit of excellence amongst the teaching staff.
The Arcadia Preparatory School is the first in a series of community-based schools delivering the vision of Mohan Valrani and the Al Shirawi Group. As the Chairman of the school, Valrani is an avid believer in providing the very best education for future generations.
Address: Orchid Street, District 9, Jumeirah Village Triangle, Dubai
Phone number: 04 552 2600
Email: [email protected]
Facebook: facebook.com/ArcadiaSch/
Twitter: @Arcadiasch
Instagram: instagram.com/arcadiaschool/
Website: www.arcadia.sch.ae
For more information, please contact:
Cindy Blaser
[email protected]
+971 55 631 0028