R.E.A.L.'s discussion-based learning framework will feature through Arcadia's secondary school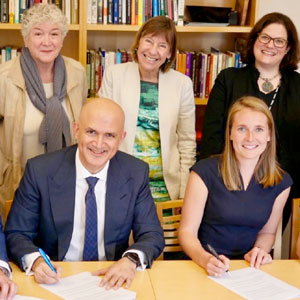 30 May 2019, Dubai, UAE - Arcadia Education in Dubai has today announced a partnership with Atlanta-headquartered organization, R.E.A.L. Discussion for its secondary school to become the first UAE based school to implement its discussion-based learning system.
This will be introduced at Arcadia's secondary school located in Jumeirah Village Triangle, which is presently under construction and set to open its doors in 2020*. As part of the agreement, R.E.A.L. will provide teacher training to Arcadia staff in Atlanta and curricular materials for student use in humanities subjects.
The agreement was signed at the University of Pennsylvania by Liza Cowan, the founder of R.E.A.L. Discussion, and Navin Valrani, CEO of Arcadia Education. Also present at the signing were Dean Pam Grossman, Vice-Dean Melissa Calvert, Dr. Bobbi Kurshan and Dr. Jenny Zapf from Penn's Graduate School of Education.
R.E.A.L. Discussion builds common language around discussion by focusing on four foundational discussion skills: Relate, Excerpt, Ask and Listen. The system equalizes 'airtime' among students, raises quality of student comments, supports student leadership, minimizes anxiety and builds classroom communities.
Liza Cowan, the Harvard-educated English teacher who founded the system, said at the signing, "In today's world, the stakes are high: students need to graduate confident that their voices matter and competent at engaging others with inquiry, evidence, and empathy. R.E.A.L. does just that. I hope that the agreement with Arcadia will kick start a global conversation about the role of discussion in classrooms - and society."
Navin Valrani, CEO of Arcadia Education, also commented saying, "When I walked into Ms. Cowan's classroom to attend a R.E.A.L. Discussion on Shakespeare's Macbeth, I just knew that discussion would be a cornerstone of our secondary school offering. R.E.A.L. aligns perfectly with Arcadia's values and ensures that no child will ever be left behind in a classroom discussion at Arcadia."
* Subject to KHDA approval
About R.E.A.L. Discussion
R.E.A.L. Discussion is a US-based organization that promotes Discussion as a Discipline in classrooms throughout the world. It was founded in 2013 in order to distill discussion into a set of discrete skills and design a method for teaching them.
About Arcadia Education
Arcadia Education is a K-12 British school operator headquartered in Dubai with an ethos that centers on nurturing the next generation of leaders, entrepreneurs, artists and athletes through a holistic approach to education.
For more information about Arcadia Education, visit www.arcadia.sch.ae.
Address: Orchid Street, District 9, Jumeirah Village Triangle, Dubai
Phone number: 04 552 2600
Email: [email protected]
Facebook: facebook.com/ArcadiaSch/
Twitter: @Arcadiasch
Instagram: instagram.com/arcadiaschool/
Website: www.arcadia.sch.ae
Press contact:
Cindy Blaser
[email protected]
+971 55 631 0028