The school, known for its innovative approach, awards sizeable contract to Sanuvox of Canada.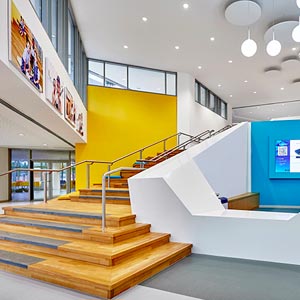 11 June 2020, Dubai, UAE - Arcadia schools today awarded a major contract of ultraviolet technology to Sanuvox, the global leader in ultraviolet air purification. Under the contract, Sanuvox, through its local distributor Oasis Coils and Coatings, will install ultraviolet technology to continuously clean its cooling coils and the air molecules coming through the air conditioning systems in both its primary and secondary school campuses.
Ultraviolet technology is recommended by the ASHRAE, the global organization that sets benchmarks in the field of air conditioning, to help eliminate the transmission of airborne infectious diseases. In light of COVID-19, sales of UV technology have risen exponentially across sectors.
"This move is the first in a series of investments we will be making to protect our students when they return back to our campuses. This is by far one of the most effective methods in eliminating bacteria and mold in our airconditioning units as well as cleaning the air molecules that comes through our ducts by breaking down their DNA." said Navin Valrani, CEO of Arcadia School, as he promised to leave no stone unturned to protect the Arcadia community when schools open in Dubai.
"This shows the true commitment of Arcadia's school towards teachers and student health. As everyone knows a healthy body in a healthy environment is all we want for our kids to learn, succeed and further contribute to society", says Jocelyn Dame, President of Sanuvox
About Arcadia Education
Established in 2016, Arcadia Education is a K-12 British school operator headquartered in Dubai with an ethos that centers on nurturing the next generation of leaders, entrepreneurs, artists and athletes through a holistic approach to education. Arcadia School is the first in a series of community-based schools delivering the vision of Mohan Valrani and the Al Shirawi Group.
About Sanuvox
Established in 1995, Sanuvox Technologies mission has been to design a line of residential and commercial UV air and surface disinfection units that reproduce the natural purification process of the sun in the upper atmosphere. For 25 years, Sanuvox's continued investment into research and development, and their drive to bring the latest technologies to market has produced a line of residential and commercial air and coil purification systems that are unsurpassed in the industry.