Mohan Valrani extends his philanthropic effort on his 80th birthday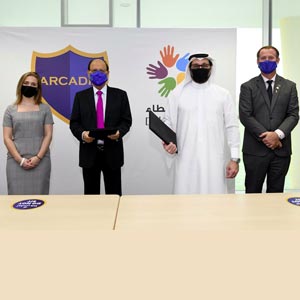 Dubai, 26 October 2020 - Arcadia School announces its adoption of a school in Nepal through Dubai Cares "adopt a school" initiative, which empowers children and young people with education.
The funds contributed by Mohan Valrani, Chairman of Arcadia Education, not only cover the construction of a new community-based school, but also cover the provision of book supplies, gender-specific latrines, teacher training and adult literacy courses.
The philanthropic initiative will enable Arcadia's students, teachers and leadership team to immerse themselves in the local Nepalese community allowing them to understand, connect with and appreciate the local culture.
To mark this collaboration, a signing ceremony between Dubai Cares' Chief Executive Officer, H.E. Dr Tariq Al Gurg and Arcadia Education's Chairman, Mohan Valrani, took place earlier this week at Arcadia School's newly opened secondary campus in Jumeirah Village Triangle.
Expressing his gratitude to Arcadia Education for adopting a school in Nepal, Dr. Tariq Al Gurg said: "You do not often come across community members who adopt a school in celebration of their birthday. It's delightful and touching to see the Chairman of Arcadia Education, Mr. Mohan Valrani, allocate funds to build a school in Nepal on his birthday. I'm confident that this gesture will give more children the opportunity to have access to quality education so they can continue learning and flourish in their educational journey. This contribution reflects the strong family ties and values of empathy, compassion and generosity that are deeply rooted within the UAE community. We hope other donors follow the same path of Mr. Valrani's by donating towards a charitable cause on the occasion of theirbirthdays and anniversaries."
Building on his legacy and his strong beliefs of every child's right for education, Mohan Valrani said: "Our mission as educators goes far beyond the physical spaces that we operate in. We have to be relentless in our goal towards building global citizens through the power of education."
The Executive Principal of Arcadia also added: "This wonderful philanthropic gesture by our Chairman and Founder will further support our altruistic mission to serve those in the national and international community who are less fortunate than ourselves and don't have the resources to provide education to their children. Our commitment to Article 4 of the UN Sustainable Development Goals will mean this connection to our partner school in Nepal gives us the opportunity to support their enhancement of quality education."
About Arcadia School
The Arcadia School, located in Dubai's Jumeirah Village Triangle, offers the National Curriculum for England to students studying from the Early Years Foundation Stage (FS1) to Key Stage 3 (Year 8). The community-focused, LEED-certified school opened in August 2016 and aspires to be one of the leading British primary schools in the world by instilling into students a lifelong passion for learning, and by nurturing innovation and the pursuit of excellence amongst the teaching staff.
The Arcadia School is the first in a series of community-based schools delivering the vision of Mohan Valrani and the Al Shirawi Group. As the Chairman of the school, Valrani is an avid believer in providing the very best education for future generations.
Address: Orchid Street, District 9, Jumeirah Village Triangle, Dubai
Phone number: 04 552 2600
Email: [email protected]
Facebook: facebook.com/ArcadiaSch/
Twitter: @Arcadiasch
Instagram: instagram.com/arcadiaschool/
Website: arcadia.sch.ae
For more information, please contact:
Pamela Chikhani
Phone number: +971 56 508 5055